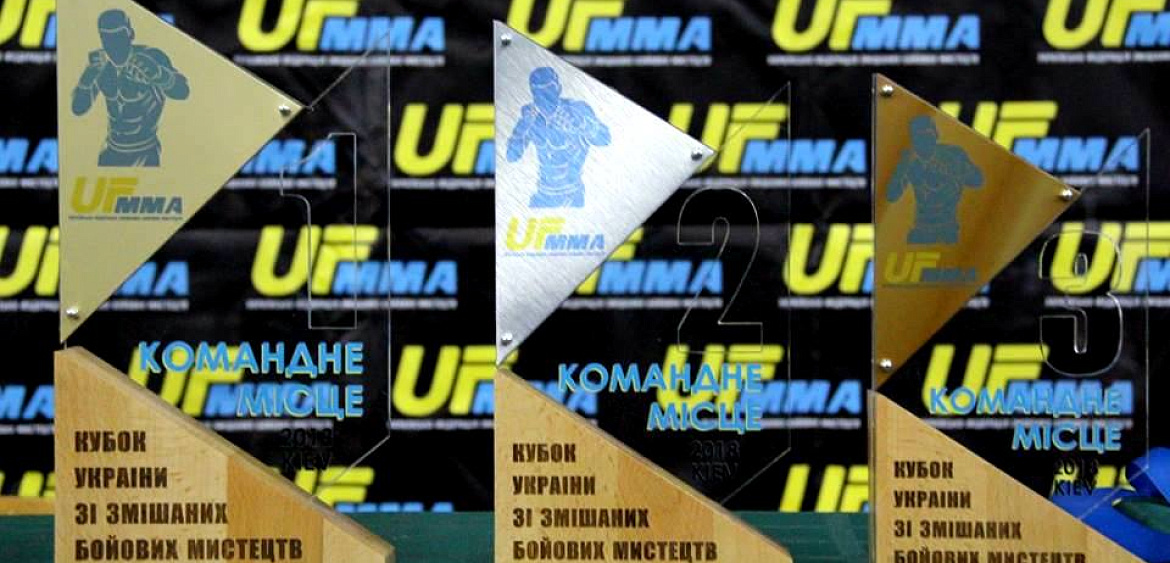 20 November 2018
Resume of the first Ukrainian Amateur MMA Cup
All-Ukrainian Amateur MMA Tournament ended in Kyiv, with Cherkasy Oblast among the leaders.

On Saturday, November 17th, 2018, the first amateur Ukrainian MMA Cup took place in Kyiv. The Ukrainian Federation of Mixed Martial Arts UF MMA organized the tournament. In total 345 athletes from 22 regions of Ukraine aged from 10 to 35 years took part in the competition. The Ukrainian MMA Cup has been held in the team-personal competition among children, youths, cadets, juniors and adults.

Official results of the Ukrainian Cup in MMA
(gold / silver / bronze)

1 Cherkasy 11/8/2
2 Odesa 7/1/0
3 Kyiv 6/9/7
4 Dnipropetrovsk 5/7/7
5 Zhytomyr 4/2/1
6 Poltava 3/8/4
7 Ivano-Frankivsk 3/1/3
8 Donetsk 3/1/1
9 Volyn 3/0/2
10 Chernivtsi 2/3/1
11 Vinnitsa 2/0/4
12 Transcarpathian 2/0/0
13 Rivne 2/0/0
13 Mikolayv 1/1/0
15 Kyiv 1/0/2
16 Sumy 1/0/1
17 Zaporizhgya 1/0/0
18 Kirovograd 1/0/0
19 Kherson 0/2/0
20 Chernigivska 0/0/2
21 Kharkiv 0/0/0
22 Lviv 0/0/0

"I am really glad that we succeeded! Thanks to the athletes for participating and the audience for their support! The high level of fighting suggests that mixed martial arts are very popular in Ukraine. Our task is to develop this sport and create conditions for all those wishing to have an opportunity to do this sport, "Denis Perch, UF MMA Vice-President commented on the MMA Cup of Ukraine.

UF MMA President Vladimir Teslya noted:
"The tournament showed that we are on the right track and the level of Ukrainian MMA is gaining momentum at a rapid pace."

On December 15, 2018, international professional tournament in mixed martial arts WWFC will be held in Kyiv's Palace of Sports. The event will display 10 fights between competitors from Ukraine, France, Poland, Brazil, Austria, Switzerland, Azerbaijan, Moldova and Belarus. The main event of the evening is the first defending fight of the champion's belt by Roman Dolidze.

about tournament