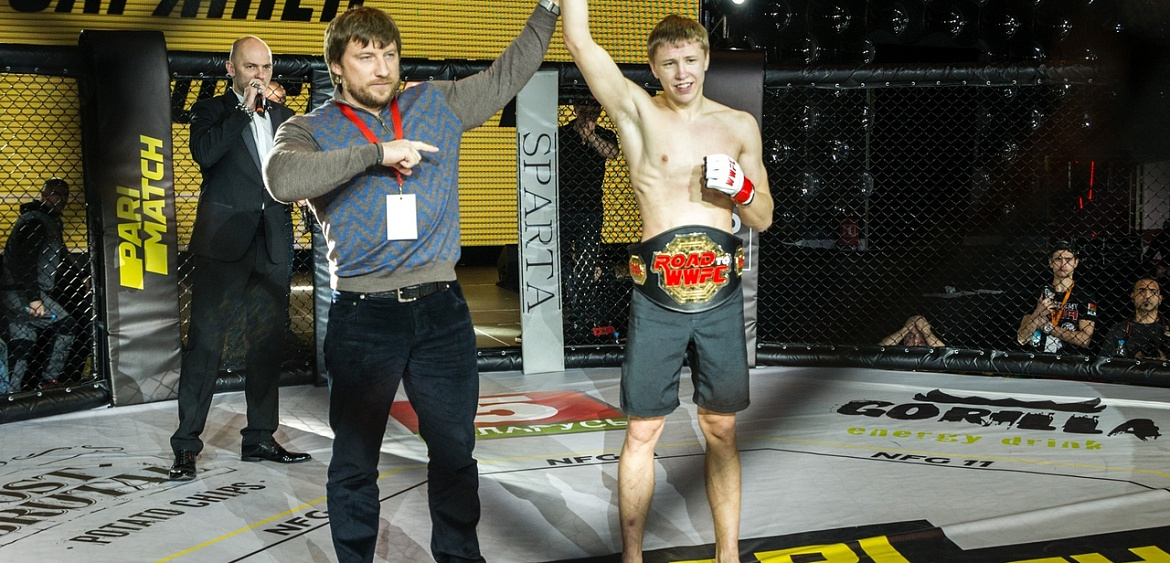 11 February 2019
WWFC League held the first MMA Tournament in Minsk
On February 9, the first WWFC tournament, Road to WWFC 18, took place in Minsk. The main event of the evening was the Grand Prix finale of the Road to WWFC belt in the up to 66 kg weight category.
Alexander Kovalev was announced the winner of the Grand Prix and the holder of the champion belt. The fighter also won the right to fight in the main event WWFC.
---
"Welcome to the WWFC team. This belt gives you the right to participate in the main-event of our league. You performed well in the finals. In the nearest future, we will organize a worthy fight for you"
, - Denis Perch, Vice-President of the WWFC League, congratulated the winner.
---
Road to WWFC is a series of tournaments that the WWFC League organizes in search of young and talented fighters.
Moreover, during the MMA Tournament in Minsk the Vice-President of the WWFC League Denis Perch presented Mikhail Odintsov , a member of the MMA Academy Minsk club, with a contract for the title of the world champion match. The bout is set for March 2 at the WWFC 14 tournament in the Kiev Sports Palace. Tickets and live broadcast in HD-quality are available at wwfc.ua.
---
"Mikhail Odintsov will fight for the World Champion title in MMA on March 2 in Kiev at the WWFC 14 tournament. This will be a mega event! I hope that this fight will be broadcatsed in Belarus"
, - the vice-president of the WWFC league Denis Perch shared his expectations of the WWFC 14 tournament.
---
The results of all fights of the Road to WWFC 18 tournament in Minsk:
Main Card:
• Peter Birko vs Mahphoz Wafa - victory Peter Birko / match match BLR vs AFG up to 70 kg
• Pavel Masalsky vs Vasya Sharifi - victory Pavel Masalsky / match match BLR vs AFG up to 80 kg
• Alexander Kovalev vs Turkhan Suleymanov - victory Alexander Kovalev / FINAL Grand Prix Road to WWFC 66 kg
• Ruslan Kolodko vs Zabihulla Fazli - victory Ruslan Kolodko / match meeting BLR vs AFG up to 73 kg

Prelims:
• Evgeny Katser vs Alexander Mironov - Evgeny Katzer won / up to 77 kg
• Alexander Kovalev vs Peter Soldatenko - victory Alexander Kovalev / Grand Prix Road to WWFC 66 kg
• Turkhan Suleymanov vs Evgeny Ogurtsov - victory Evgeny Ogurtsov / road to WWFC grand prix 66 kg
• Yuri Prokhorenko vs Pavel Panomorenko - victory Pavel Panomorenko / up to 100 kg
• Dmitry Zasinets vs Yegor Hramena - Dmitry Zasinets victory / NFG grand prix up to 84 kg
• Arseny Fomenkov vs Roman Rozhkov - Victory Roman Rozhkov / NFG Grand Prix up to 84 kg
• Vladislav Yankovsky vs Boris Byk - victory Vladislav Yankovsky / NFG Grand Prix up to 84 kg
• Alexander Humpback vs Alexander Karpov - victory Alexander Humpback / NFG Grand Prix up to 84 kg
02 March 2019
WWFC 14
Anatoliy Zhurakivskiy vs Arman Esayan
Palace of Sports, Kiev
about tournament