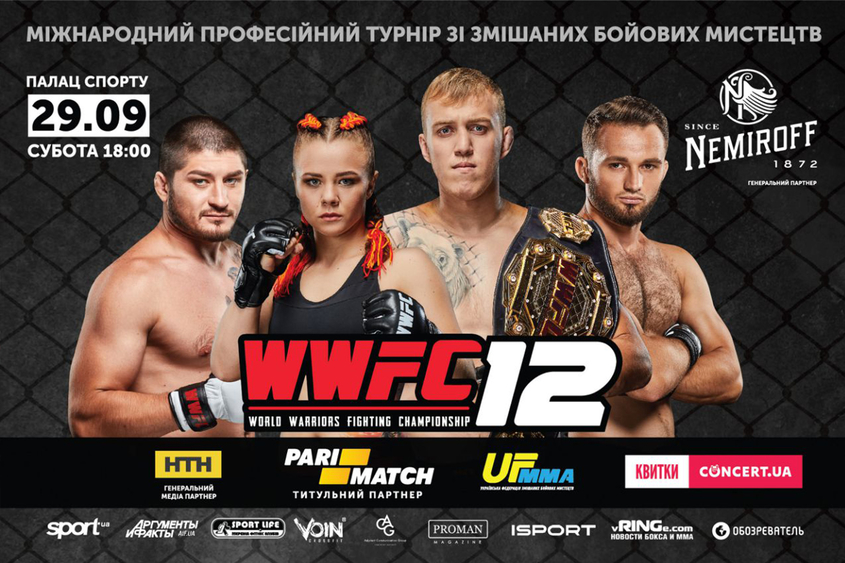 12 September 2018
WWFC 12: world show of VIP
September 29 at the Kiev Palace of Sports will host a grandiose tournament on mixed martial arts WWFC 12, in which there will be a mass of uncompromising fighting confrontations, including three for the prestigious world title in the WWFC version. By the good tradition, the organizers - the international league World Warriors Fighting Championship - prepare for the audience an abundance of pleasant surprises.

The best MMA-show of the world level in Ukraine is not the first year on a regular seasonal basis, pleases admirers of thrill with a bright, truly alive spectacle. WWFC tournaments, which collect a lot of top fighters fr om around the world, earned respect among fans and experts, which is invariably reflected in the filled stands and high ratings of television broadcasts.

Of course, the forthcoming WWFC 12 tournament will not be an exception, wh ere traditionally will be given to the lucky owners of a comfortable landing in the VIP zone who not only can see an explosive action from the best points of view, but also share this pleasure in an exclusive company of sports stars and shows -business.

The mood of the holiday as always will be supported by fashionable DJs and MCs, and it will be possible to recharge with energy and positive on an exquisite buffet with the best cocktails from the general partner of the tournament - the international brand "Nemiroff".

In addition, for all guests with VIP tickets there will be entrance to the Palace of Sports through an individual entrance along the exquisite red carpet, and the VIP-parter for the comfortable stay of the guests will be fenced along the entire perimeter.

Individual approach to every VIP guest with the highest level of service will provide a special atmosphere for immersing yourself in a world-class show with entertainment, treats and drinks, exclusive photos and an incredible spectacle throughout the evening, which will continue with the Incendiary After Party party in company with world champions and star guests of the tournament .

Unforgettable impressions are guaranteed, and it's really better to see with your own eyes, and more than once!
29 September 2018
WWFC 12
Sergiy Spivak vs Tony Lopez
Palace of Sports, Kiev
about tournament