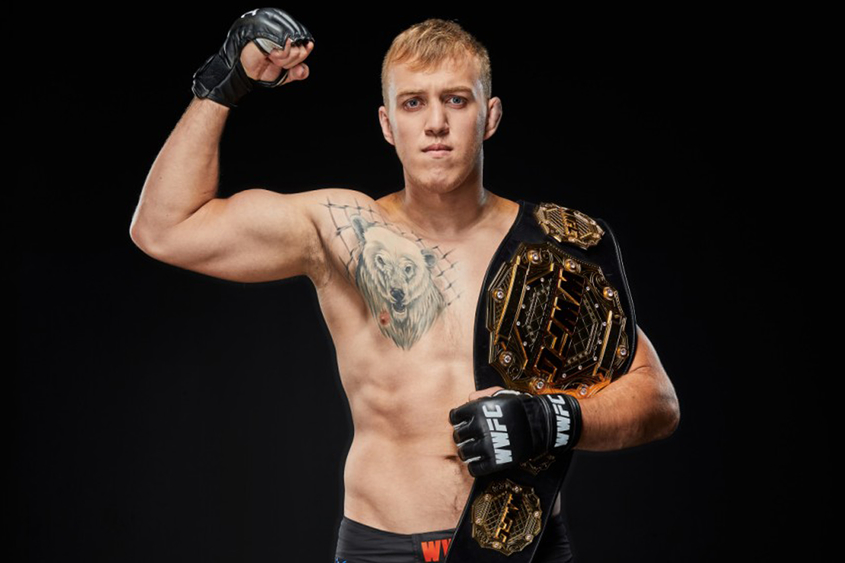 31 August 2018
Sergey Spivak: "My time will come soon!"
23-year-old world champion under WWFC version, heavyweight "Polar Bear" Sergey Spivak (8-0) is the type of fighters who live by the sport and do not perceive it as entertainment or means of income. They are always fit and are constantly striving to improve, to get better fr om fight to fight, from training to training.

29 September in the main event of the tournament WWFC 12, which will traditionally be held in Kiev Sports Palace, Sergey will make the second defense of the championship title. The two previous title fights with his participation came to the end by the pre-term submission of the rivals in the first round. How will it be this time?

In an exclusive interview Spivak spoke about the preparations for the upcoming tournament, dealing with fighting hunger, improvements and also warned colleagues of the UFC, to prepare for the unenviable fate.

— Sergey, in an interview back in the spring you said you were willing to participate in the June tournament WWFC 11. Why in the end, your desire was not fulfilled?

— Yes, I really wanted to fight at WWFC 11 because I was not exhausted by the preparation for the tournament WWFC 10, which took place in late March. I did not have health problems, injuries. I wanted and want to be an active participant, want to fight more often. At the same time, not everything depends on me, I'm not McGregor to set up conditions. WWFC management makes the decisions. Obviously they have some plans.

- From June 2017, when you won the title, you have held two matches and both ended in you favor in the first round. It's clear that you could fight more often. Do you agree and what on this account thinks the management of the WWFC?

— Yes, it turns out that last two fights I won in the first round, and thank God nothing troubled me after the fight. In the scheme of things, I needed just a couple of days to be with family, and then I could start preparing for the next fight. I do not know what WWFC think about that – probably, it is better to ask them directly. But I don't regret, all is the will of God. I am ready to fight anytime, anywhere. Most importantly to be healthy, and so I am ready on a 24 hours 7 days a week!

— What is your standard day now? How do you spend your rest days when trainings are not scheduled?

— I now at the training camp on general physical culture preparation in the Carpathian mountains, and I have three training sessions a day. The national Boxing team of Ukraine is training here for the world Cup, and I'm mostly running around the mountains, I keep myself fit and wait for a call from the League on the appointment of the next fight. The day of rest is Sunday, which I fully dedicate to recovery, gaining strength for the next week of trainings.

— How do you deal with "combat" hunger, which tends to accumulate without official fights?

- And I don't have it, because I every day work hard in the hall, struggling with myself. And in everyday life, even when I'm resting, I try to be disciplined in everything. I'm fully dedicated, I don't want to lose,

I have a motivation and goal that I must achieve. You need to live with it, you can never relax. Just live and win yourself every day .

— More than a year has passed from the moment of winning WWFC champion title. What did you become stronger in during this time?

— I work every day, and with each new day I become better. I see it and I believe in it. I am a versatile fighter and I develop throughout. Every day my motivation is also increasing.

- Your next fight is scheduled for the September tournament. Tell us how you will be be preparing to fight.

— As usual, and I can already tell that I am ready to fight. Here, in the Carpathians, I am sparring and training. But as the tournament will be held at the end of September, then I expect about a week to devote to general training, then three weeks to do special training, then four weeks of sparring, and about a week of rest. Gather strength and fight.

— Have you seen fight for a title of the champion of UFC in heavy weight between Daniel Cormier and Stippe Miocic? Are you surprised by the result – a quick victory of Cormier, who was (and still is) a champion among Light heavyweights?

- The result didn't surprise me because the heavy weight is generally unpredictable world, wh ere anyone can win.

— How closely do you follow events in the world of MMA and leading overseas promotions? Do you fancy yourself in the fights with the star rivals?

— Before, when I was 18-20 years old, watched more. Now I don't watch fights only the top heavyweights of UFС. And, of course, I can imagine how I'm going to fight them. I'm following them in all, and soon my time will come!

— Last year you became the champion. This had a successful protection. What's the next goal?

- My goal is to be better today than yesterday, and tomorrow better than today! Then I'm not going to choose from that will stand in my way. I'll go straight and pass all the tests!
29 September 2018
WWFC 12
Sergiy Spivak vs Tony Lopez
Palace of Sports, Kiev
about tournament